EFT PROCEDURE - Shortcut Version
Shortening the tapping sequence to include the Top of the Head point through the UnderArm point shortens the time involved.
The "Shortcut" Sequence includes:

• TH= Top of Head / Crown
• EB = Beginning of the Eyebrow
• SE = Side of the Eye
• UE = Under the Eye
• UN = Under the Nose
• CH = Chin
• CB = Beginning if the Collarbone
• UA = Under the Arm
These charts are available in HTML and PDF format. Feel free to print these charts for distribution as long as you:
1) Do not sell them in any way, and
2) Keep our contact information on them
Thanks!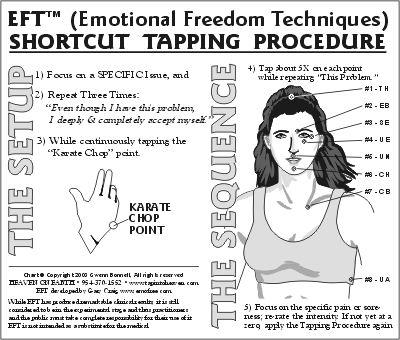 EFT Shortcut Version in PDF format
Please note: pdf versions require you have Adobe Acrobat Reader
on your computer. If you do not have Adobe Acrobat Reader,
it's
available online for free
.

If you experience NO RELIEF after a few rounds of tapping, please visit EFT Tips and Hints or see the *EFT Full Version