ZIP UP TO PROTECT YOURSELF FROM
NEGATIVE EMOTIONS & ENERGY VAMPIRES
by Gwenn Bonnell
"Zipping Up" from the pubic bone to the lower lip affects the Central Meridian (the radio receiver that is highly sensitive to other people's thoughts and feelings, as well as your own.)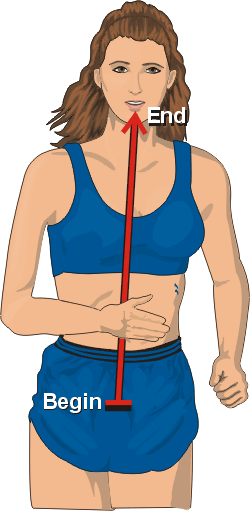 When you are feeling especially open and exposed, tracing in the natural direction energy is flowing through the meridian allows you to feel more confident, more positive, more centered, to think more clearly, and protects your system from negative energies.
Rub the palms of your hands together in a circular direction.

Place your hand, palm facing the body, at the bottom end of the central meridian, which is at your pubic bone.

Inhale deeply as you move your hand slowly straight up the center of your body to meet your lower lip. Imagine pulling up a zipper to close it. Repeat three times.
Saying affirmations while doing this exercise is extremely powerful. While you zip up, it may be helpful to say "I am clear, centered, and confident" or something else that will help become more confident in your specific situation. Also imagine that you are locking the zipper in place after you are done and hiding the key to prolong the technique's effect.
You can do the zip up as often as you wish. It's also a great technique to use before going to class or in any social situation, especially if you are sensitive to crowds or other people's energies.
Adapted From: "Energy Medicine" by Donna Eden
WANT TO LEARN MORE ABOUT A DAILY ENERGY ROUTINE TO SUPPLEMENT THESE FOUR THUMPS?
Click Here to find out how to access the replay of my workshop: REBOOT YOUR ENERGIES With a Self-Care Energy Medicine Routine that takes only Minutes a Day to Reset the Effects of Stress, Anxiety and Overwhelm so you're more Refreshed, Energized and Clearheaded!
=> www.womenthatheal.com/energy-reboot/
--
Gwenn Bonnell is an International Energy Coach & Trainer and the author of many programs that teach you how to use EFT and Energy Medicine to boost your energy, improve your health, remove your blocks to success, reduce stress and bring zest back into your life...

Need MORE TOOLS to transform your health, wealth and well being? Finally! Stop sabotaging your life and begin living the life you really want! Click Here> http://www.tapintoheaven.com/store