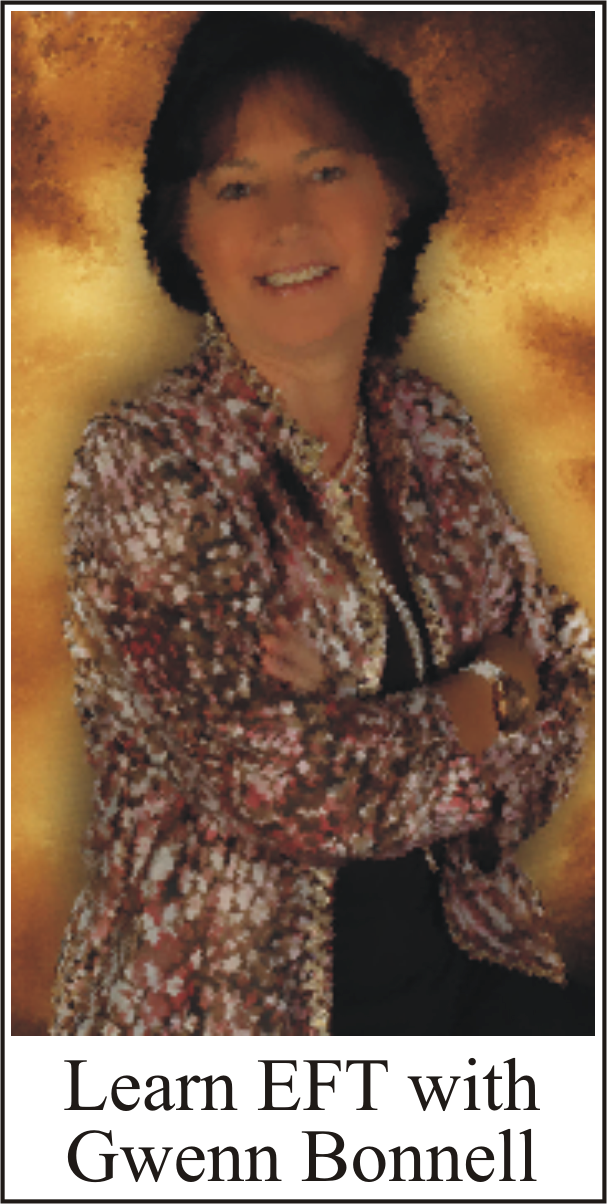 "Hi...Gwenn here with an Audio EFT Training Program you can download NOW. This is what I learned from Gary Craig: EFT... Emotional Freedom Techniques. I've taught psychologists, doctors, healers and housewives from around the world how to successfully use tapping to get the results they want. Now it's YOUR turn to learn EFT.
If you are ready to learn this revolutionary tapping process RIGHT NOW without spending hours or even days in front of the computer or in seminars and shelling out big bucks for the same thing I'm going to teach you step-by-step in a few minutes in the privacy of your own home, and you want to learn how to get results quickly for any issue you choose to address with EFT, then this program is for you."

 Why do people love this audio program? Because it's a real timesaver! Now you won't have to sit through hours of instructional video, or read through "filler" chapters of an over-written, overpriced eBook. Instead, this audio program is a fast and private tutorial on how to create miracles.
If you are committed to self-development and truly mastering the art of EFT, then you WILL learn the material in this audio program. The only question is how!
Would you rather learn through a quick tutorial that reveals these secrets to you now, or waste months (even years!) of trial and error? This program will teach you the basics, then take you beyond the basics, and even have you tapping along to real EFT sessions so you feel comfortable and confident in your skills.



YES! I'
m ready to save time and money and get the results I want NOW with EFT! I understand that I get instant access to the EFT Quick Start Audio Guide and e-manual, including:
The 30-minute Quick Tap-Along Tutorial MP3 teaching me EFT Step-by-Step, so I know how to tap, where to tap, and what to say while I'm tapping.


The original Basic Recipe the popular Shortcut Sequence as taught by Gary Craig, EFT's developer, so I can make sense of all the hybrid methods that have sprung up the past few years, and be able to evaluate any up-and-coming alternative tapping therapies for myself.


REAL LIFE down-to-earth examples of what to say to make tapping work the best for me so I learn how to use EFT for anything from eliminating the common cold and flu symptoms to overcoming overwhelm and boosting my income.
The ultimate keys to blasting past blocks and getting the successes I want with EFT, whether painful emotions, physical or health difficulties, relationship issues, financial situations or performance problems are in my way.
What the Experts do when they AREN'T getting results with EFT. (These secrets are lifesavers and will get me on the fast track for addressing ANY issue with EFT - worth ten times the cost of this program alone!).
Three (3) One-On-One EFT Sessions that I can tap along with and "Borrow Benefits" from. Plus I'll see how powerful EFT is with a one-minute-wonder result, and what to do to get results when the one-minute-wonder doesn't happen for me.
Questions and Answers from Gwenn's live EFT demonstration covering how to use EFT for a variety of subjects - these are real people asking questions I want answered too!
"Gwenn is one of those masterful EFT'ers who has learned to make EFT sing."

- Gary Craig, developer of EFT

I also understand that when I ACT NOW, I also get...
MP3 downloads of the entire program, plus the TRANSCRIPT of the entire
program in e-book format (The manual alone will be sold separately as an
upgrade after this promotion for $29.97)...
The 30-minute EFT tutorial that will have me tapping right away and include
- The theory, background and basics of EFT
- The EFT mechanics I learned from Gary Craig
- World-renowned tapping charts for the Basic Recipe and the popular Shortcut Method
- The "Short Movie in Your Mind" process
- How to address any remaining intensity after tapping for a few rounds
- What "Chasing the Pain" means and why it's a good thing
- The magic of the "Mirror Method"
How Gwenn used EFT to eliminate her 12-year long burning leg pain...
Feeling Overwhelmed? How Bud went from losing his shirt in his business to becoming franchisee-of-the-year after one tapping session with Gwenn...
Three one-on-one tapping session to tap along with and Borrow Benefits:
- Elyse's one-minute wonder, releasing her fear that caused overwhelm and total shutdown
- Positive tapping helped Kathleen get past her resistance to cold-calling
- Using persistence, retesting and reframing to eliminate Alisa's performance anxiety...
Questions and answers from a live presentation about how to use EFT, including
- Can I tap silently or do I always have to say the affirmations out loud?
- When is the best time to tap?
- Is EFT similar to NLP (NeuroLinguistic Programming)?
- What about Remote or Surrogate tapping?
- Does EFT work for past life issues?
- What do I say when addressing pain with the tapping?
- Does EFT work for weight loss? How can I use it for cravings?
- Can I use EFT with my children?
- What do I say while tapping?

A Special Tapping Sequence to use anytime to boost my confidence about
using EFT for any issue I choose to treat for myself or others...
A BONUS Segment of 13 Turbo Tapping Tips to supercharge my EFT experiences...
And much more... at a special 11th anniversary update price that I can't afford to pass up!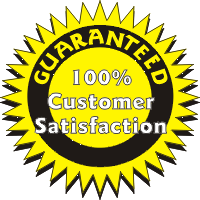 100% Guaranteed
If the EFT Quick Start Guide doesn't show me exactly how to save me time by learning the tapping process in a few minutes... if it doesn't take me by the hand and teach me step-by-step EXACTLY how, where, and when to tap and what to say for maximum results... if it doesn't save me money by not having to buy lots of programs to learn how to get results quickly with EFT, then I understand I will receive a full refund, No Questions Asked!

Originally, these programs were selling for a total of $59.97
but are now discounted to $39.97,
BUT when I buy the 11th Anniversary Update Edition of the EFT
Quick Start Tapping Guide NOW, I get everything for only $19.97 (over 66% savings)...

To your tapping success,




Gwenn Bonnell

P.S. Every minute you wait to get the EFT Quick Start Guide is another minute you waste, stuck, wondering why other people are having so much success with this cutting edge technique and you're not. Instead of taking the trial-and-error approach to tapping, now is your chance to quickly and easily learn how to use EFT effectively and finally get the results you long for!
P.P.S. But don't just take my word for it... take a look at the following testimonials from real people just like you who benefitted from this program....
"I have used EFT many times on myself,
friends and family and it has always worked!
Thank you, Gwenn, for teaching me EFT!"
-- G.R., Pembroke Pines


"You tapped me into so much business that I can't keep up. Not only are my losses erased, but business is better than it ever was, and it shows no signs of letting up!"
-- H.J., Miami


"I am trained as a therapist. I have worked in that profession and have been to therapy myself. I have learned more about myself with EFT and have been able to identify and clearly look at past issues and feelings that have led to my current behavior patterns, than I was ever able to do in therapy. Thank you for your kindness and openness."
-- S.M., Ft. Lauderdale


"EFT was so simple and so instantaneous-not like
other procedures that are more involved and take time
to work. This is amazing-I wouldn't have believed it
if I didn't experience it myself."
-- M.R.P., Pennsylvania


"Thanks again for my tapping and acceptance of myself despite the pain in my neck. Your session allowed me to enjoy the rest of my evening and haven't had any problems since."
-- J.B., Arizona


"Gwenn, your audio tutorial on EFT is clear, informative, pleasant to listen to, and ideally suited for an EFT beginner. You are a natural when it comes to public-speaking (as well as writing)!"
-- L.S., New York

Claim Your Risk-Free Program Now
YES, Gwenn! I am taking you up on your exciting offer today at the special price of $59.97 $39.97 $19.97 for INSTANT online access to your audio program "EFT Quick Start Guide"
And I will receive the following BONUSES:
The TRANSCRIPT of the entire program, including the tutorial, the tapping sessions, and the questions and answers session, in e-book format. This manual will be sold separately as an upgrade after this promotion is over. ($29.97 value).

Included in the e-manual are tapping charts I can use for either the Shortcut method or the entire Basic Recipe, along with links to other online EFT resources.



A Special Tapping Sequence I can use at any time to help me feel more confident and comfortable using EFT for any issue I choose to treat for myself or others...



A BONUS Segment of 13 Turbo Tapping Tips to supercharge my EFT experiences...

Plus much, much more!

And I know that I can try the "EFT Quick Start Guide" Audio and e-Manual completely Risk-Free with your "no questions asked" 30 60-day money-back guarantee. It will deliver all the benefits you describe in this letter or I will receive a full refund. On the basis of this "Can't-Lose" offer, I am ordering now.

IMPORTANT NOTICE: While the Energy Therapies in this website have produced remarkable clinical results, they must still be considered to be in the experimental stage and thus practitioners and the public must take complete responsibility for their use of it. This program is not intended as a substitute for the medical recommendations of physicians or other health-care providers. Rather, it is intended to offer information to help the reader cooperate with physicians and health professionals in a mutual quest for optimum well-being.
© Gwenn Bonnell, All Rights Reserved
Tap Into Heaven, Inc.
1550 SW 139 Ave
Davie, FL 33325
WEBSITE: www.tapintoheaven.com
EMAIL: gwenn@tapintoheaven.com