BALANCE YOUR MERIDIANS
AND MAINTAIN EMOTIONAL HEALTH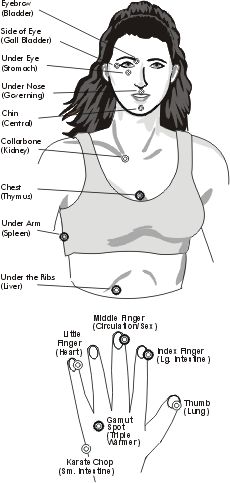 This exercise is a combination of EFT (Emotional Freedom Techniques, tapping on acupressure points), adding the thymus gland and the liver meridian points, with the affirmations recommended by Dr. John Diamond (Life Energy) for the corresponding meridian or gland. You can use this as a meditation or as part of your daily energy routine. I find that the days I do this in the morning, the rest of my day seems to flow, and I'm more emotionally balanced.
MERIDIAN MAINTENANCE EXERCISE
EASY PRINT CHART:

Repeat each affirmation 3X, taking deep breaths in between, while tapping on the meridian point. You can add "Right now, I deeply and completely accept myself, andů," before each affirmation for increased effectiveness.
IMPORTANT NOTICE
IMPORTANT NOTICE
While EFT and other Energy Therapies in this website have produced remarkable clinical results, they must still be considered to be in the experimental stage and thus practitioners and the public must take complete responsibility for their use of it. This Website is not intended as a substitute for the medical recommendations of physicians or other health-care providers. Rather, it is intended to offer information to help the reader cooperate with physicians and health professionals in a mutual quest for optimum well-being.
FURTHER,
The information provided on this website is a good faith effort to expand the use of EFT and other energy therapies to the world. This web page represents the ideas of the Gwenn Bonnell and does not necessarily represent those of Gary Craig or EFT.